One firefighter sustained a minor injury while responding to a structure fire in Waterbury Monday morning.
Officials said they found heavy fire on the fourth floor, extending to the attic, at the building at the intersection of Rye and Fairmont Streets.
The firefighter's injuries happened during a fall inside the building.
Battalion Chief Bob Stoeckert said the injury was minor.
A photo from police earlier Monday showed flames coming from several windows on the top floor.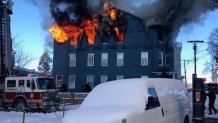 By 11:30 a.m., less flames were visible though much of the top floor appeared to be smoldering.
Stories from LX News
LX, or Local X stands, for the exponential possibilities of storytelling in our communities.