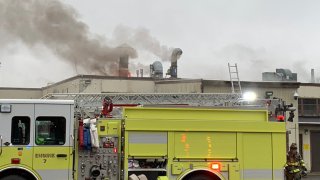 A gun manufacturing company in North Haven is closed for the day after fire broke out on Thursday morning and it is expected to reopen Friday.
Firefighters responded to O.F. Mossberg & Sons at 7 Grasso Ave. at 9:15 a.m. and found everyone outside and fire coming from the roof.
Officials said the company said all employees evacuated and one was treated for a minor injury.
The fire department activated the New Haven Special Hazards Team to handle a potential hazardous materials incident because manufacturing chemicals were close to the fire.
Crews from the state Department of Energy and Environmental Protection were called in to check run-off and to test the atmosphere.
The website for O.F. Mossberg & Sons says the company, founded in 1919, is the oldest family-owned firearms manufacturer in America.
The company issued a statement, thanking first responders for their quick response and work to limit damage to the facility.
They said the company was closed Thursday and is expected to return to normal operations Friday.