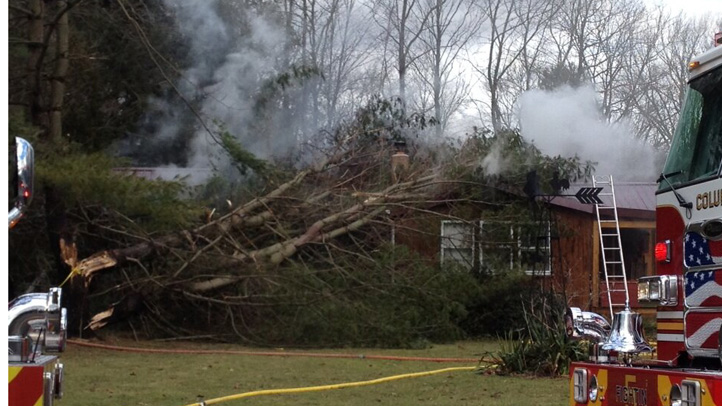 More than 50 firefighters battled a house fire on Olive Road that started around 9 a.m. on Thursday.

When firefighters, they found smoke coming from every window and flames were shooting out of the sides of the house.
Jeremiah Olden was only one person in the home when the fire broke out and he escaped unharmed with two dogs and two cats, according to family members.

His wife, Autumn, was at work when the fire started, according to family.

A tree fell on top of the house hours earlier, and firefighters said wires, the metal roof and the lingering wind from the powerful storm that swept through made the fire more difficult to fight.

Whether the toppled tree caused the fire is not yet clear.
Cody Olden, of Lebanon, said his uncle Jeremiah, who is a works as a tree trimmer, was cool, calm and collected.

"He knew what to do and he did it fast," Cody said.

Jeremiah Olden's mother, Cheryl, lives in a finished garage on the property and said her alerted her to the fire.

"My son came up and alerted me and said, 'Quickly get dressed get out. My house is on fire," she said.

Firefighters from Lebanon, Columbia, Bozrah and Hebron battled the blaze.