Firefighters are working to put out a fire in Newington Thursday morning.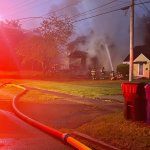 Crews were sent to Robbins Ave. near Main St. in Newington after reports of a house fire.
There are road closures in the area near Robbins Avenue, according to officials.
No word yet on any possible injuries.
Check back in with NBC Connecticut for updates.