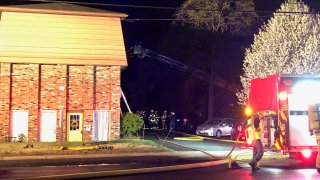 Firefighters are battling a blaze in Plainville Thursday morning.
Crews were sent to East Main Street after a receiving a call about the fire.
Flames were coming from the roof when crews arrived, and they knock the fire down pretty quickly.
There are about 20 apartments in the building and most of the damage is limited to one apartment and the attic.
Smoke alarms alerted residents that there was a fire, everyone was able to get out of the building and no injuries are reported.
The fire chief said the fire could have been much worse if the smoke detectors were not working. 
There might be some smoke damage in other apartments.
Eversource cut power to the building.