A mother and son have been transported to the hospital for evaluation after their home went up in flames in East Haddam just before 4 a.m. on Thursday.
According to Valley Shore dispatch, multiple agencies responded to the fully involved fire on Triangle Drive. The home is located in the Moodus section of East Haddam.
Several ambulances were called in to help residents suffering from smoke inhalation.
Eversource also reported to the scene to shut off power due to live wires. According to officials, the live wire and icy conditions made it difficult for firefighters to knock down the flames. Water had to be brought in to help in the efforts to combat the fire.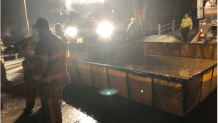 No additional information is available on what caused the early morning blaze.