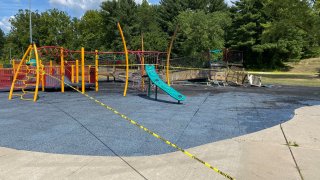 Hartford police have arrested a 12-year-old boy and a 15-year-old young man who are accused of setting the fire that destroyed a playscape at a playground on Tuesday afternoon.
Police said the two children rolled a large truck tire under the playscape at 423 Granby St. and set it on fire.
Firefighters and police responded to the playground and said the fire caused extensive damage and the playscape cannot be used.
The two suspects were charged with reckless burning, risk of injury and reckless endangerment and released to the custody of a parent.
No injuries were reported due to the fire.