Firefighters in Watertown put out a fire that broke out Wednesday evening.
It happened during the early evening hours on Linkfield Road.
While details remain limited at this time, officials said that a second alarm was initially struck, but later sounded a third alarm, requesting additional aid from area departments to the scene.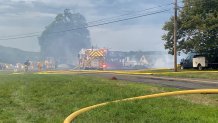 It is unclear if anyone was inside the building when the fire broke out or if there are any injuries.
No additional information was immediately available.