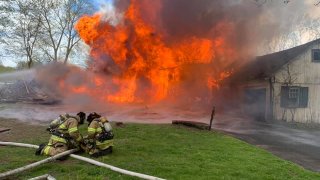 Firefighters are investigating after two barns went up in flames Saturday afternoon.
Crews were called to the 300 block of Main Street around noon after getting a report of a barn fire.
When crews arrived on scene, they said they found a large pile of debris on fire that was extending up the side of the barn.
The 20 to 30 mph winds helped the fire extend quickly. The fire took over most of the barn and part of the second garage next to it, fire officials said.
More than 40 firefighters battled wind-driven fire for approximately 40 minutes with multiple hoses, fire officials said.
Firefighters protected a nearby home from fire extension and knocked down the fire shortly before 12:30 p.m.
A lawnmower was the only thing inside either building at the time of the fire, officials said. No injuries were reported.
The cause of the fire remains under investigation by South Windsor Fire Marshal's Office.