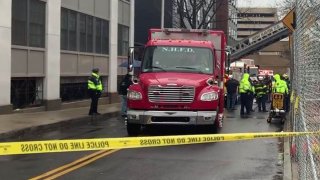 A worker was transported to the hospital after falling at a construction site in New Haven on Monday morning.
Firefighters were called to the site around 10:15 a.m. where a man was working in the basement of a building that's under construction, authorities said.
The man fell about five feet off of something and needed to be rescued, fire officials added.
Crews could not get into the basement so they had to set up a high angle rescue, according to firefighters.
The man was conscious and alert and was transported to Yale-New Haven Hospital.
Authorities did not release details on specific injuries.