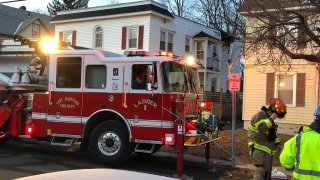 A firefighter suffered a hand injury while fighting a fire at an apartment building on Hanmer Street in East Hartford Wednesday morning.
East Hartford Fire Chief John Oates said crews were called just before 6 a.m. to respond to the building, which includes four apartments, and found fire in the top floor apartment in the back.
The fire started in an outside wall and traveled across the ceiling and into next apartment, according to fire officials.
All residents were able to get out OK, but a firefighter suffered a minor hand laceration.
There is extensive damage to the apartment on the right on the top floor and the American Red Cross is helping with relocation.
The building was originally designed for two units but has been split into four, Oates said.
The fire marshal is investigating the cause of the fire.