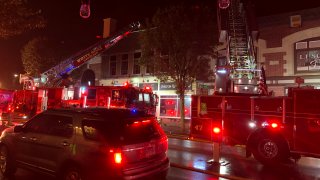 A mixed use building in Shelton is damaged after a fire on Monday morning.
Crews were called to the fire on Howe Avenue and firefighters said they found heavy smoke when they arrived.
The fire was in the basement of the three-floor mixed use building, fire officials said. The building has both commercial and residential uses.
According to fire officials, there is heavy smoke and fire damage to the first and second floors of the building and the occupants who live on the third floor have been forced out of their home.
A portion of the building was undergoing renovations at the time of the fire, fire officials said, but it's unclear if that contributed to the fire
The fire is under investigation and the cause remains unknown at this time.