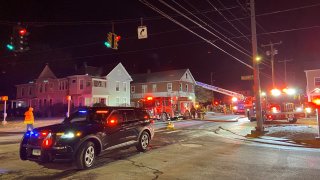 A total of six people were displaced after a fire tore through an apartment building on Main Street in Manchester Saturday night.
Crews responded to the structure fire at approximately 7:40 p.m.
Officials said there were reports of two people trapped on the first floor. Firefighters were able to pull them out, which 8th District Fire Chief Dan Langer said is thanks to a short response time of about 45 seconds from the initial call.
"It's lucky that we were that close, especially with people being trapped," Langer said.
The fire broke out on the second floor of the apartment, and responding crews saw fire in the back of the building upon arrival, they said.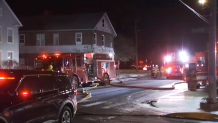 Langer said there is smoke and fire damage to both the first and second floor. Wind and cold temps made response difficult, he said.
Approximately 35 to 40 firefighters were on-scene assisting.
The Red Cross was called in to help six people displaced as a result of the fire.
The Fire Marshal is investigating.