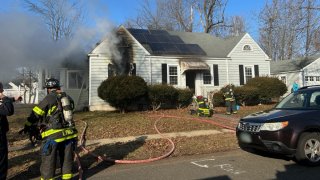 Crews battled a fire at a house in Hamden on Wednesday morning.
The fire broke out in a home on Glenbrook Avenue just after 9:30 a.m., according to fire officials.
Arriving firefighters found heavy smoke coming from the home and located a fire in a bedroom, they said.
Three people and the family dog were able to escape the fire. One person was taken to the hospital to be evaluated for smoke inhalation, according to fire officials.
The house sustained heavy smoke damage throughout and it was deemed uninhabitable.
The cause of the fire is still under investigation.