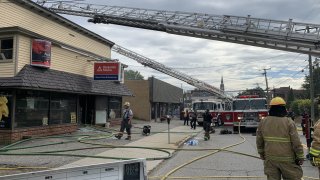 Fire crews are investigating a fire that happened on Main Street in Torrington Sunday afternoon.
Firefighters said the fire happened at 298 Main Street at approximately 1:30 p.m. Crews were dispatched to the area after hearing that flames were visible in the area.
Crews said the open floor plan allowed the fire to extend to the second and ceiling levels. Firefighters worked from the basement up to put out the blaze.
Traffic was diverted around the immediate area near the fire.
The Torrington Fire Marshal's Office is investigating the cause and origin of the fire with the help of the State Fire and Explosion Investigation Unit.
No injuries were reported. Officials said no one was displaced and assistance from the Red Cross was not needed.