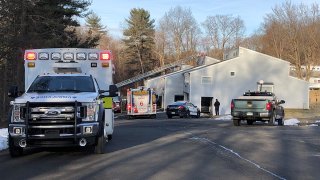 A family's pet died when a fire broke out at the Glenwood Condominiums in Canton, according to fire officials.
The town of Canton volunteer fire department and EMS responded to a fire at 50 East Hill Road just before 7:30 a.m. after a resident noticed smoke coming from a neighbor's door and called 911, officials said.
No one was home when the fire started and an adjacent condo sustained some damage.
The Canton fire marshal's office is investigating the cause of the fire.