Two firefighters were injured while battling a 3-alarm blaze at a downtown building in Seymour, authorities said.
Fire officials said residents in two apartment buildings next door were evacuated as a precaution. About 13 residents are believed to be displaced, but officials believe they'll be able to return to their homes tonight.
Crews said they worked aggressively to put out the fire, which quickly spread because of how old the building is. According to authorities, older buildings tend to hold a lot of heat and if there's a fire, it tends to move fast.
About 100 firefighters responded and several nearby fire departments provided mutual aid.
Five business owners are displaced as a result of the fire. In the building that was on fire, there was a massage parlor, two antique shops and a barber shop.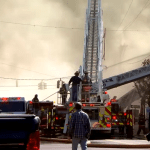 One of the firefighters injured suffered injuries as a result of a fall and the other firefighter had heat exhaustion, according to officials.
Seymour police are asking people to avoid the area around Main Street at Bank Street.
At one point, there were 1,400 Eversource outages, according to police.
The fire is under investigation by Seymour police and the fire marshal, along with the Connecticut State Police Fire and Explosion Unit.
There's no impending risk to anyone outside of the building, according to officials.