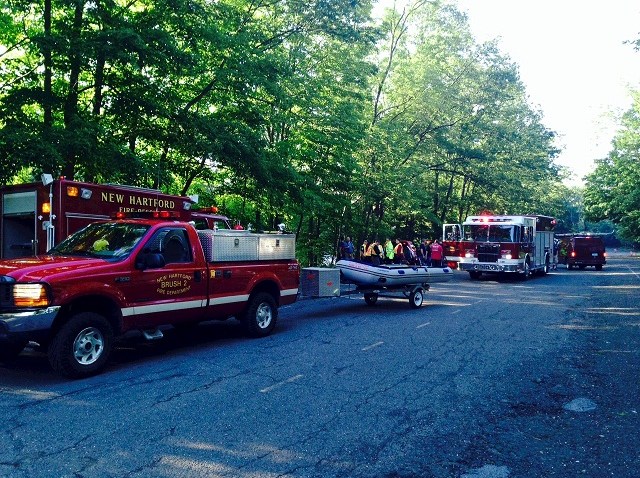 Crews were searching the Farmington River on Saturday morning for a 33-year-old New Hartford woman who fell from a raft overnight.
The DEEP said homeowners living in a condominium complex near the water notified them that they heard people on the Farmington River at around 5:30 a.m. Saturday.

State police, EnCon police and the New Hartford and Canton Fire departments responded to the scene and began searching for 33-year-old Rachel Greene of New Hartford.
They were aided by two DEEP vessels, a Coast Guard helicopter, and State Police aircraft. Rescue dogs and personnel on ATV's also searched the area.
EnCon police said the incident involved two rafts that entered the water at around 2:30 a.m. on Route 44, one mile west of Satan's Kingdom in New Hartford. One raft held two men, the other held a man and a woman. Police said that after floating down the river only a short distance, the raft carrying the man and woman hit a rock and overturned.
The man was able to swim to shore but the woman remained missing.
Emergency crews set up a command post at the corner of Route 44 and Satans Kingdom Road but said that the woman could be further down the river.

"With the current as its going right now, and the depth and everything like that, she could be currently where she is ... or she could have floated down into Canton," said Mark Worsman, New Hartford Fire Chief.

No further information was available.