Police have identified the two people who died after their car ended up in the Housatonic River in Seymour on Friday afternoon.
Connie Crowell, 54, and her son, John Crowell, 22, were pronounced dead at the scene.
Connie and John were from Monroe, according to police.
The incident occurred off Roosevelt Drive.
Connie and John were in the car and seatbelted in when crews found them.
Upon arrival, firefighters say they enlisted the help of a private boater.
"We actually took a resident's boat and put our guys on that boat as well and tried to make entry to the car," Michael Lombardi, chief of the Seymour Fire Department said.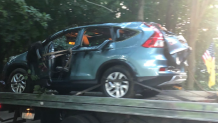 The car was 75 yards offshore, submerged in an area between 16 and 20 feet deep. Currents required firefighters to close the Housatonic Dam before they could recover the vehicle.
"We put a tag line on it to keep the car in place from the current. Tied it off to a truck so it wouldn't go down the river anymore and then our rescue effort began from there," Christopher Edwards, deputy chief of the Seymour Fire Department said.
Approximately 75 firefighters responded to the scene. One firefighter was transported to the hospital with minor injuries. They were one of the first at the scene.
The town's deputy chief says the car is now out of the water.
Seymour crews are taking the lead on the investigation with help from EnCon officials.
Rescue efforts included assistance from five agencies, including dive teams from Newtown and Middlebury.
Police say they believe this is an accident but said it is still under investigation. Anyone with information is asked to contact the Seymour Police Department at 203-881-7638.