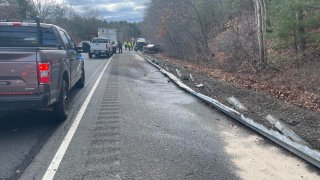 Crews spent hours cleaning up a large diesel fuel spill on route 2 in Glastonbury Thursday afternoon.
The state Department of Transportation said the right lane of Route 2 East was closed between exits 9 and 10, but has since reopened.
Environmental Services, Inc., which is a privately held environmental services company, said their hazmat team responded to the scene.
The Department of Energy and Environmental Protection (DEEP) said a flatbed tow truck went off the road and through a guardrail. This caused diesel to spill into and alongside the road.
Crews drained the remaining fuel in the truck's tank, cleaned the road and removed about 40 yard of soil, according to DEEP.
Connecticut State Police and Glastonbury firefighters also responded to the scene.
No additional information was immediately available.