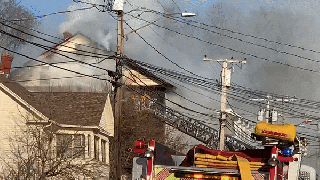 Emergency crews and neighbors rescued two people from a house fire in Vernon Monday.
Firefighters officials there received reports of people trapped by the fire in the multi-family home on Union Street when they responded around 5 p.m. When they arrived, fire crews, police and neighbors all jumped in to make rescues.
"Neighbors were helping neighbors, help the fire department, help the police department stabilize the ladder," Town Administrator and Emergency Management Director Michael Purcaro explained. "We actually had a national guardsman who lives next door...I don't have his name...but we want to thank him for helping us hold the ladder and rescue two individuals from the third floor of the building."
Two people were taken to the hospital with smoke inhalation and are currently listed in stable condition.
The damage cut off access to the second and third floors from inside the building so crews had to use aerial ladders to clean up hot spots. The fire also spread to a home next door on Ward Street.
Fire officials said 15-20 residents live in the buildings. At least 10 people were displaced. The Red Cross and Salvation Army have responded to help the residents.
The cause of the fire is under investigation.
Mutual aid from Ellington and Tolland responded to the scene and crews from Bolton, South Windsor and the Manchester Eighth District offered station coverage.
The smoke from the fire was so heavy that Rockville General Hospital had to shut down its air handling system to keep patients safe.
Investigators remain on scene .