Firefighters battled a large fire at a 9,000 square-foot home in Avon on Wednesday.
Officials said they responded to Wyngate Drive at about 3:30 p.m. The home is located on a dead-end road.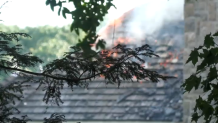 Crews said it was an all hands on deck response. The fire originated in the upper floors of the home.
The house was just sold in May and no one was living inside the home, according to authorities.
Crews that were working on the home at the time noticed the fire and called it in. Police said they immediately evacuated the house and called 911.
Smoke from the blaze could be seen from a traffic camera in Farmington.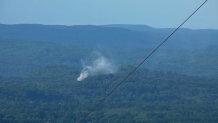 More than a dozen crews responded to the scene. Firefighters spent several hours at the scene putting out the blaze.
One firefighter was taken to the hospital with a minor injury, according to fire officials.
The State Fire Marshal's Office responded and the cause of the fire is under investigation.