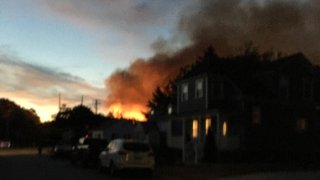 Three firefighters suffered minor injuries as they battled a fire in Fairfield Sunday night that shut down Metro-North train service and residents in the area reported hearing fireworks before the fire started.
A resident of Chestnut Street contacted authorities at 8:45 p.m. to report fire behind her home and firefighters found heavy fire and worked to protect homes.
Residents reported that they'd heard fireworks going off in the area shortly before seeing the fire, according to fire officials.
The fire then started to spread across a large area of marsh between Chestnut Street and Grasmere Avenue and it involved some Metro North railroad tracks, so all train traffic was stopped in the area, fire officials said.
The fire was under control at 10:25 p.m. and train service on the Metro North Line was restored shortly after, fire officials said.
Three fire fighters suffered minor injuries. Two were treated at the scene and the other was transported to the hospital and later released.
Officials are investigating the cause of the fire.