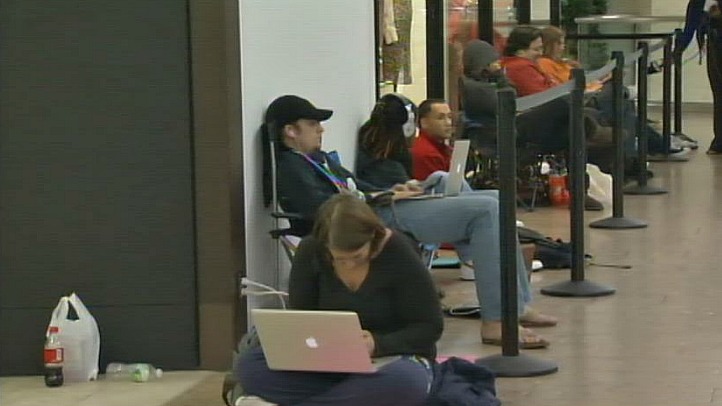 Hours before the new iPhone was available on Friday morning, Apple aficionados camped out at local stores to be there when the door open.
At Westfarms Mall, customers were joined by celebrities while waiting for their new iPhones. The group Boyz II Men, in Connecticut for a concert at Mohegan Sun Friday night, stopped at the mall to pick up the latest release from Apple.
"All three of us and some of our crew are all in line for an iPhone", Shawn Stockman tweeted around 7 a.m. " Electronics is the MAN's equivalent to women and shoes! Gotta have it!," he said.
Stockman, who is also a judge on NBC's hit show "The Sing Off", also tweeted a picture of the line at Westfarms.
"I'm good, I'm excited, I'm an Apple fan since '91," Boyz II Men member Nathan Morris said moments after walking out with his new iPhone. "Honestly, I buy everything they put out, so it doesn't even matter."
At the new Apple store in New Haven, store employees handed out umbrellas for customers waiting out in the rain.
The changes Apple made in the iPhone 4S are not as dramatic as some people were hoping, but that does not stop tech-lovers from flocking to buy the newest thing.
One reason, people at Westfarms said they wanted the phone is Siri, which allows you to talk to your phone as if it's a person and ask for reminders or to find the best burger place in town.
Some of our Facebook fans said they were waiting for their phones to arrive by mail. Others said they are too expensive, are happy with a Droid or are waiting for iPhone 5.