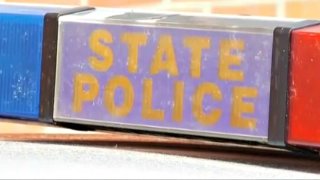 A Connecticut State Trooper who was helping a driver who had hit a deer in Mansfield was struck by a woman who is accused of being under the influence late Monday night.
According to troopers, a vehicle struck a deer at the intersection of Stafford Road and Route 44 around 11:45 p.m. and called police for help.
While the trooper was helping the driver, authorities said 26-year-old Hope Herzog, of Columbia, hit both the trooper and the pedestrian who were in the road.
Herzog then hit a state police cruiser and caused disabling damage, state police said. The impact from that crash pushed that state police cruiser into another state police cruiser and caused minor damage. Both state police vehicles were not occupied at the time of the crash.
The pedestrian was transported to Hartford Hospital and the trooper was transported to Windham Hospital. Both have injuries that are considered non-life threatening.
According to investigators, state police determined Herzog was intoxicated at the time of the accident.
She is facing charges including reckless driving, illegal operation of a motor vehicle while under the influence of alcohol/drugs, operation of a motor vehicle with handheld telephone/electronic device/texting and assault with a motor vehicle. Her bond has been set at $2,500 and she is due in court in September.
The crash remains under investigation.