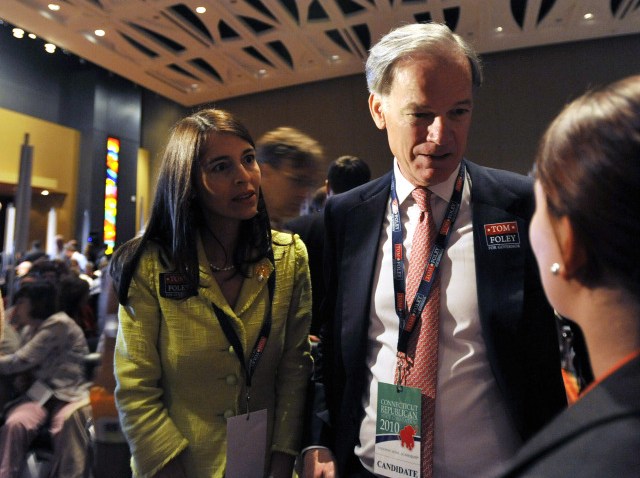 Republican gubernatorial candidate Tom Foley has released a letter his wife signed in 2006 saying he never threatened or physically abused her.
Foley released the letter to The Hartford Courant after he was told the paper was preparing another story about a large binder of materials from his former wife, Lisa Foley.
Those materials include written allegations that Foley had been controlling and otherwise "abusive." Lisa Foley submitted that binder to the governor's office in 2002.
The letter signed by Lisa Foley in 2006 says "You have never threatened me, or physically abused me in any way; as I have never done with you," the Courant reports.
The Courant has already published a story about two incidents involving motor vehicles that led to Foley's arrest. The charges were later dropped. In the binder she submitted in 2002, Lisa Foley describes one of those incidents, saying her husband ran her and their son off the road. Tom Foley tells the Courant that he was trying to block her with his car, to keep her from leaving with their son, and that he acted out of concern for his son's well-being.
Lisa Foley declined to comment to the Courant on the 2002 materials. Tom Foley says she wrote the letter "at a time when our relationship was particularly strained" and that they now have a "civil" relationship.
After the Courant published the story on Foley's arrests, one of his Republican opponents, R. Nelson "Oz" Griebel, said that Foley has "an arrest history of domestic violence allegations."
Foley issued a response saying: "I categorically deny that any domestic violence occurred between me and my former wife at any time before, during, or after our marriage. To raise that specter publicly without any evidence is a shameful lack of fair play in the public domain."
Griebel and fellow Republican opponent Lt. Gov. Michael Fedele both say Foley should seek release of the arrest records.
Foley says the arrests are not material to his ability to serve as the state's next governor and he wouldn't oppose the records' being unsealed but did not plan to actively seek their release.