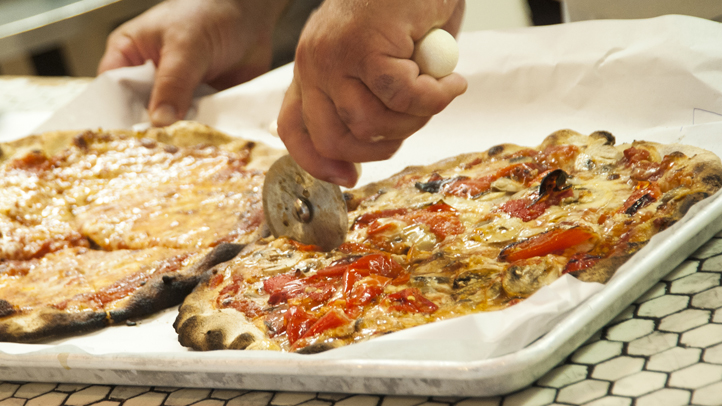 If you live in Connecticut, you probably have a soft spot in your heart – and your belly – for pizza.
The folks at the Daily Meal had the envious job of identifying the 101 best pizzas in the United States and they kept coming back to Connecticut.
Five of the best 101 are from Connecticut pizza joints and three of them are from New Haven, a city we all know is famous for them.
Without further ado, here is the list of the best pizzas and where you can find them.
Alforno, 1654 Boston Post Road in Old Saybrook: 860-399-4166
Sixth-eighth on the list is the Margherita pizza from Alforno in Old Saybrook. When Bob Zemmel opened the restaurant in 1992, his goal was to bring the style of pizza you typically find in New Haven's "Little Italy" to the shoreline. It was a success.
The acclaimed Margherita pizza is made with fresh plum tomatoes, mozzarella, basil and garlic. Yum!
Colony Grill, 172 Myrtle Avenue, Stamford: 203-359-2184
The 27th best pizza in America is the sausage pie from Colony Grill in Stamford. They have been serving up pizza since 1935 and have perfected the pie. Colony also has locations in Fairfield and Milford.
Modern Apizza, 874 State Street, New Haven, Connecticut: 203-776-5306
Modern has been serving pizza since 1934 and the Italian Bomb ranks as the eleventh best pizza in America. It comes with bacon, sausage, pepperoni, mushrooms, onion, pepper and garlic.
Sally's Apizza, 237 Wooster Street, New Haven: 203-624-5271
Number seven is the Tomato Pie from Sally's Apizza in New Haven. Sally's has been delivering thin-crust pizza since 1938 in the heart of New Haven's pizza district. If you want more toppings, there are plenty to choose from.
Frank Pepe's Pizzeria, 157 Wooster Street, New Haven: 203-865-5762
At the very top of the list is the famous white clam pie from Frank Pepe's, a pizzeria that was founded in 1925 in New Haven and has been growing ever since. The white clam is made with fresh clams, grated cheese, olive oil, fresh garlic and oregano.
The Daily Meal also rated Pepe's the 39th best restaurant in the country.
There are now Frank Pepe's Pizzerias in Fairfield, Manchester, West Hartford, Danbury and at the Mohegan Sun Casino in Uncasville. There is also one in Yonkers, New York.
Also on the list of the best restaurants in the country is Shake Shack, which comes in eleventh. The New York-based chain has opened one in New Haven as well, right down the street from Yale University.
So, what's for lunch?