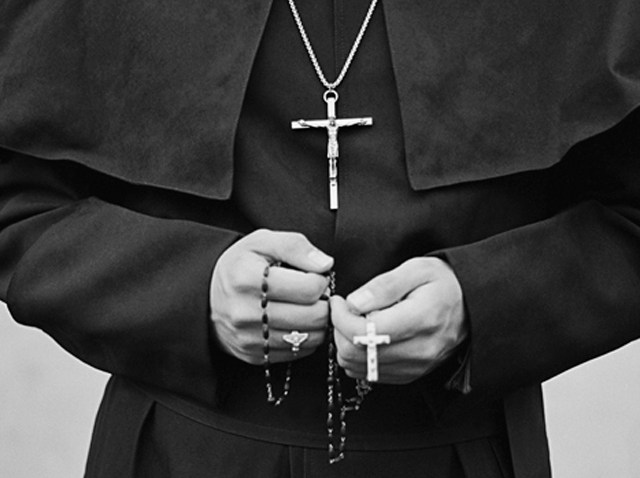 Speaking out and filing suit -- A Connecticut man takes is suing the priest who he says abused him and the others who he claims -- tried to cover it up.
Brooks Thopsey,30, of Stratford, says he was molested at the hands of a defrocked former pastor in Trumbull when he was an altar boy dating back to 1989. He filed a lawsuit on Wednesday against retired New York cardinal Edward Egan and other Catholic Church officials.
Thopsey shared his story of a living hell that started when he was just 12 -- a trauma that he says has paralyzed him with fear at times, and drove a wedge between his family. He speaking for the first time to help other kids in the exact same position.
"It, it paralyzed me in pretty much every aspect of my life, " said Thopsey.
Thopsey says Father John Castaldo sexually abused him inside St. Theresa's church in Trumbull when he was just 12.
"He acted as if he was my friend, he took me to breakfast when I would serve morning mass, tell dirty jokes in the car, say hey why don't you sit up front with me," Thopsey described.
The lawsuit, filed in Superior Court in New Haven, names Castaldo, The Roman Catholic Diocese of Bridgeport and Egan, who was the Bridgeport bishop before he became Cardinal.
The lawsuit says, "Castaldo sexually molested Brooks Thopsey for purposes of his own deviant sexual gratification."
Thopsey says he tried to forget but when he was 20 -- it all came rushing back. "I had a flash come by where I had a flashback of a priest, I had such a severe panic attack I couldn't hold a glass of water, I couldn't talk, I couldn't stand up," Thopsey said.
Thopsey's lawyer says Castaldo had a sordid past including being expelled from the seminary as well as disturbing psychological assessments.
"He is actually a convicted felon and there are not many priests or certainly former priests where you can identify a convicted felon so the diocese of Bridgeport is fully aware of the heinous acts that this man has done throughout this life," said Joel Faxon, Thopsey's attorney.
"If I can come out today and I can help one family, help one child from having to go through this, I've done my part and that's why I'm here today, " Thopsey said.
The lawsuit looks for compensation for pain, lost wages, counseling costs, and more. Also named in the suit are two former Bridgeport Bishops at the time of the alleged abuse, now retired New York Cardinal Edward Egan, and the late Bishop Walter Curtis.
Calls to the Bridgeport Diocese were not returned.
In a 2005 statement to the Associated Press, Egan's spokesman denied the former bishop ignored warnings.
"There was no indication whatsoever that this priest was engaging in any kind of inappropriate behavior, " said Joseph Zwilling, Spokesman for the archdiocese of New York.