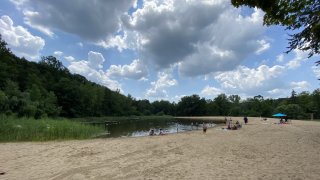 The state Department of Energy and Environmental Protection (DEEP) is looking to hire staff ahead of the spring and summer season.
They're looking for people who enjoy spending time outdoors, conserving and providing access to state parks and outdoor areas.
Employees would make between $15 and $19 an hour and would work outdoors in areas such as lifeguarding, maintenance, conservation, forestry, outdoor recreation and law enforcement.
"Our state parks, forests, and boat launches are more popular than ever, and seasonal opportunities are a great way to ignite a passion in conservation and recreation, gain experience in a new field, or lead to a career in the outdoors," DEEP Commissioner Katie Dykes said.
DEEP said the seasonal positions could lead to potential environmental careers. They said they're looking to diversify their workforce.
"Having a DEEP staff that represents and serves all of Connecticut is a top priority, so it's critical that seasonal opportunities and recruitment efforts introduce DEEP to a wide range of people," Dykes said.
Seasonal positions are available in various areas across the state. Most of the seasonal positions are available at state parks and forests.
The state agency is especially looking for environmental conservation rangers to "provide public safety through education, outreach and enforcement." Recruitment closes for these roles on Friday.
There are nearly 150 state park and forest positions available. For more information about the seasonal positions, you can visit the DEEP seasonal employment website.