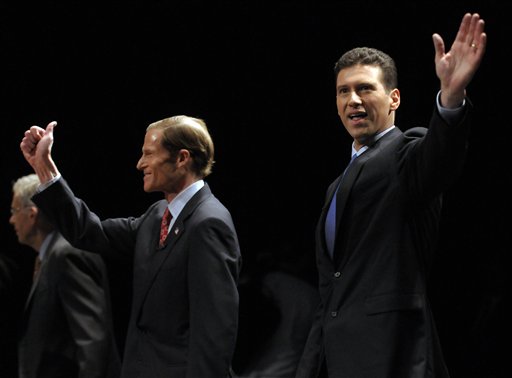 The Democrats vying for the senate seat that will soon be vacated by Chris Dodd faced off in debate Monday night. Merrick Alpert is the self-proclaimed underdog who wasted no time attacking the Attorney General's long list of lawsuits.
"We're one of 2 states that has lost jobs while he's been in office. Let me ask you Attorney General, how many jobs has your lawsuits created?" said Merrick Alpert.
"Our lawsuits create jobs because they create an equal playing field among businesses with fair enforcement," said Blumenthal.
In a televised debate at the University of Hartford, Blumenthal touted his long time political career in public office, while Alpert attacked it.
"Look at Connecticut. In the 20 years he's been in office, health insurance rates have skyrocketed," said Alpert.
"We have been straight jacketed by a system too weak, impotent and ineffective. I believe reform is necessary to give consumer advocated power over it," said Blumenthal.
Furthermore, on the issue of health care, Alpert called for a universal Medicare plan, while the Attorney General supported a gradual approach of creating competition in the heath insurance industry.
Both agreed on tougher sanctions against Iran, but disagreed on the war on terror.
"I support the President increasing troops over an 18 month period on the condition that Afghanistan starts reflecting a democratic government," said Blumenthal.
"The course we are on is the wrong one. Get uniformed troops out of Afghanistan now," said Alpert.
In their final statements, both candidates got straight to the point.
"I believe my opponents will make this contest about me. It's not about me. It's about the candidate that'll fight and achieve results for the people of Connecticut. That's what I've been doing for 20 years," said Blumenthal.
"I am the underdog, but so were the US Bobsled team, the Saints and a gentlemen named Barack Obama. If you're truthful, the American people will support the underdog," said Alpert.