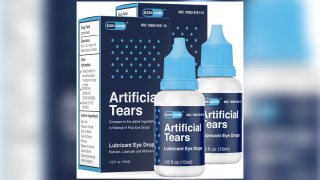 The Connecticut Department of Public Health is urging people to stop using a specific brand of eye drops after they have been linked to an outbreak of drug-resistant infections.
The Centers for Disease Control and Prevention sent a health alert this week to doctors about EzriCare Artificial Tears and the link to the infections.
The outbreak has included at least 55 people in 12 states, including Connecticut, according to the CDC and DPH. At least one person has died and five others have permanent vision loss.
"The Pseudomonas bacteria that have been found in the EzriCare product are highly resistant to antibiotics," said Connecticut Department of Public Health Commissioner Dr. Manisha Juthani. "Infections with the bacteria can develop in the eyes, blood, lungs, and urinary tract."
The eye drops are sold under the name EzriCare and is made in India by Global Pharma Healthcare. The Food and Drug Administration said the company recalled unexpired lots of EzriCare Artificial Tears and another product, Delsam Pharma's Artificial Tears.
The company is recalling the over-the-counter eye drops and also posted a notice on its website urging people to stop using the product.
EzriCare said it is not aware of any evidence definitively linking the outbreak to the eye drops.
People who have used EzriCare Artificial Tears and have signs or symptoms of an eye infection should seek medical care, according to DPH.
Those symptoms include:
Discharge from the eye
Eye pain or discomfort
Redness of the eye or eyelid
Feeling of something in the eye
Increased sensitivity to light
Blurry vision
For more information on the outbreak, click here.
NBC Connecticut & Associated Press