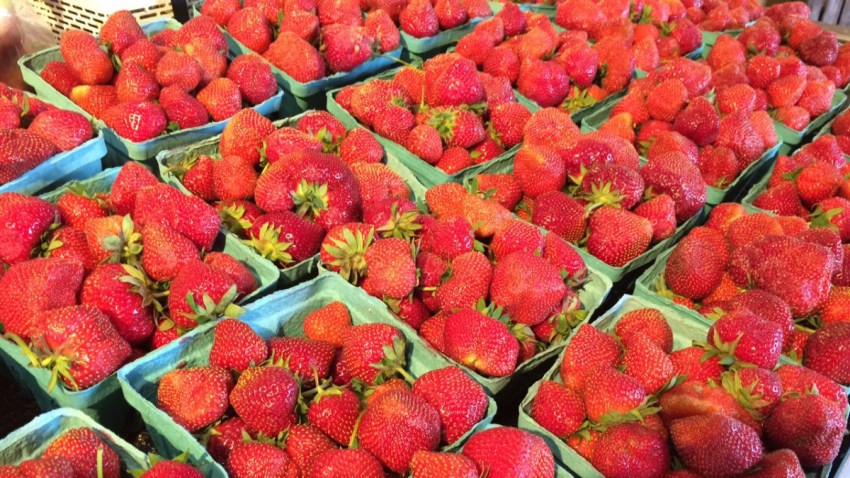 February was the coldest month on record in the Hartford area in 110 years.

Meteorological spring, defined as the 3-month period from March to May, was 11th driest on record with only 7.39 inches of rain (or liquid equivalent from snow).

So, how is the strawberry crop doing?

Put simply, very well. "This is the best season in 30 years," screamed a customer picking berries as the NBC Connecticut car pulled into the dusty pick-your-own field in Middlefield.

Lyman Orchards is a hot spot for eager berry pickers in search of the plump, red berries this time of year.

According to Lyman Orchard's "pick your own" calendar, strawberries are in-season from early June through early July. Peak season is occurring right now.

Though this year has been filled with weather extremes, John Lyman III says the cold of this past winter actually benefited the crop.

"One of the things that was kind of unique, in a way, it was a sustained cold. Once it turned cold in at the end of January, it stayed right through February. That's okay, because the plants acclimate themselves to the climate. It's the ups and down that create probably more stress on the plants and the trees."

Lyman III serves as executive vice president of Lyman Orchards and has been part of the operation since 1980. He says this year's crop is one of the nicest, following a challenging year in 2014, even though it's been dry this spring.

"There are things that you can and can't control with the weather, and what we're finding out, is that if you can control the moisture through irrigation, it's probably worth the investment to do so."

Going forward, the summer months of June, July and August are forecast to have equal chances of above or below precipitation by government meteorologists. In the temperature department, equal chances also exist for above or below average temperatures.

Should it turn out dry, Lyman Orchards is ready with a network of weather stations and irrigation systems.

"In the last say 5 or 6 years, we've developed a network of these weather stations and they go into Cornell. They have a system using and tracking all of the data to give you predictions on pests, measure for diseases, the amount of time it was wet, the temperature, to give you some predictive models on that," says Lyman III.
Sam Manzo from Southington says the berries are very sweet. "There are a lot of them. I've only been picking not even 15 minutes, and I've picked half a tray."

As for the difference between store-bought berries and pick-your-own, the Dillon family thinks the benefits are worth it.

Grandma Dillon, who's picked her own berries for over 30 years, was joined by her daughters and grandkids enjoying some family time together while filling their baskets. To those who've never ventured out to pick their own, she says "I think they're losing out, missing out. These are the best, nice and fresh."

Pick-your-own strawberries are available through the rest of the month at Lyman Orchards. You can check the latest picking conditions by clicking here.