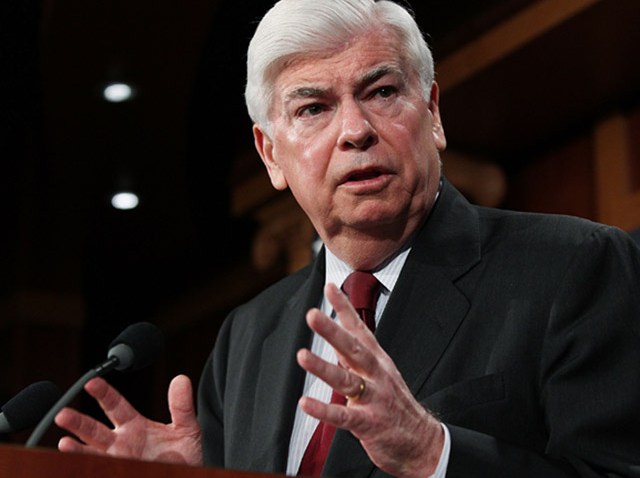 It was near the end of a long day and Sen. Christopher Dodd, in his shirt sleeves with 1,900 pages of proposed financial regulations stacked in front of him, had been scanning the hearing room of the House Financial Services Committee.
There were the Republican senators, the House Democrats, the financial sector lobbyists. At the back of the room were two of Treasury Secretary Timothy Geithner's top lieutenants.
All of them are tugging at Dodd, as a House-Senate conference works to fuse separate versions of the biggest rewrite of Wall Street regulations since the Great Depression. As chairman of the Senate Banking Committee, Dodd's final career test before retiring in January is to protect his and the Senate's version from changes being demanded by House members, bankers and the Obama administration.
Negotiators will confront the knottiest differences between their two bills this week. With 60 votes needed in the Senate to overpower GOP opposition to enacting the sweeping measure, Dodd can't risk cracking the fragile coalition of 57 Democrats and only four Republicans who have supported the Senate bill.
"I've gotta keep things together," he said in an interview Friday with The Associated Press.
Both bills would rein in the financial sector in similar ways, adding oversight, consumer protections and new rules for largely unregulated markets. The differences are in the margins, but it's in margins where Dodd counts his votes.
Chairing the House-Senate conference is Rep. Barney Frank, a Democrat from Massachusetts with an acerbic sense of humor and a sharp command of the legislation. He and Dodd want Congress to send a final bill to President Barack Obama by July 4.
For Dodd -- 66, white-haired, amiable and shrewd -- it's all a political bank shot. He's hoping his effort at bipartisanship with unyielding opponents of the bill will help him retain the good will of the handful of Republicans who voted with him.
No, he said, he didn't expect to convert senators such as Shelby, Corker or other Republicans on the conference committee. "But there are others who I think see how this is operating and it does influence their votes," he said.
He was thinking of the four Republicans who voted to pass the Senate bill last month -- Charles Grassley of Iowa, Scott Brown of Massachusetts and Olympia Snowe and Susan Collins of Maine.
Dodd also must take care not to alienate Democrats. He cut a compromise on credit rating agencies last week to keep Sen. Al Franken, D-Minn., in the fold. And he and Frank are fending off moderate Democrats, New York lawmakers and worried Treasury officials to accommodate Sen. Blanche Lincoln, D-Ark., who wants to make large banks spin off some of their lucrative derivatives business into separate affiliates with their own funding sources.
Dodd offered a compromise that would only protect banks with assets of less than $10 billion. He called for a vote. Lincoln, whose state's largest bank has assets greater than $10 billion, voted with Republicans against Dodd's compromise. The 6-6 tally defeated the Republican measure by the slimmest of margins. Dodd called Collins afterward to assure her he would continue defending her position.
The Obama administration wants its own changes to Collins' proposal, saying it ties U.S. officials' hands in negotiating international financial regulations.
Dodd said any differences with the White House remained unresolved. He downplayed their significance.
"I never met a White House yet that didn't exaggerate the importance of these matters, and this is no exception," Dodd said. While he welcomed the administration's advice, he said, "In the end, they don't have any votes in that conference."