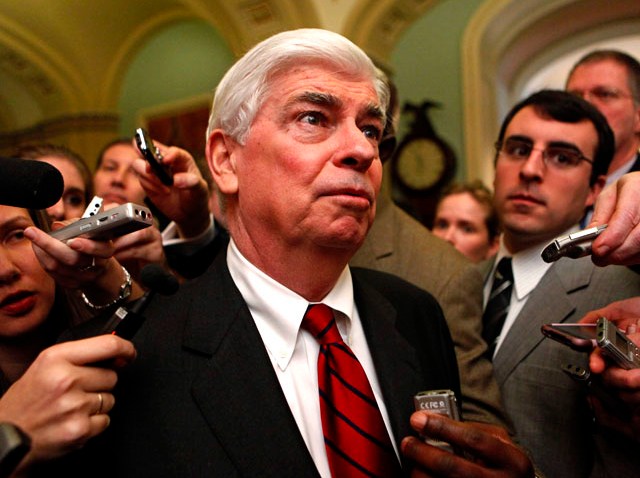 Sen. Chris Dodd's 36-year career in the U.S. Senate will end in January and he delivered his final speech on the Senate floor this afternoon, calling on his colleagues to act with civility as they carry out difficult tasks.
Ultimately what matters, Dodd said is the consequences of the Senate's actions on the American people.
It is common for retiring Senators to say "I'll miss the people, but not the work," Dodd said, but he will miss both.
He discussed issues he has worked on over the decades and seeing the impact on people in Connecticut, the state's defense industry, the high-speed rail plan and grants to help cities and towns.
"Until this last Congress with rare exceptions, every major piece of legislation that I authored that became law … had a Republican co-sponsor, as well as support from my Democratic caucus," he said.
Dodd also offered advice to Senators who will take office in January, including constant fundraising.
"I will begin by stating the sadly obvious: Our electoral system is a mess. Powerful financial interests, free to throw money about with little transparency, have corrupted the basic principles underlying our representative democracy. And, as a result, our political system at the federal level is completely dysfunctional," Dodd said.
He also addressed entering a world in which they will be in the spotlight around the clock and his views on media coverage.
"Newly-elected Senators will learn that their every legislative maneuver, their every public utterance, and even some of their private deliberations, will be fodder for a 24/7 political media industry that seems to favor speculation over analysis and conflict over consensus," Dodd said. "This explosion of new media brings with it, its own benefits and drawbacks—and it is occurring at the same time the presence of traditional media outlets are declining."
In closing, Dodd said:
"I wish you wisdom. I wish you courage. And I wish for each of you that, one day, when you reflect on your moment, you will know that you have lived up to the tremendous honor and daunting responsibility of being a United States Senator," he said. "But now, to quote St. Paul, ―…the time of my departure has come. I have fought the good fight, I have finished the race, I have kept the faith.
You can read his entire speech here.
Like many careers, Dodd's had its ups and downs.
Dodd, 66, was elected to Congress in 1974 and served three terms in the U.S. House of Representatives before being elected to the U.S. Senate.
He has served as chairman of the Banking Committee, where he pushed through a financial reform package during the recession.
He has been a vocal advocate for health care reform and stepped on the national political stage with a run for U.S. President, but he has also faced heavy criticism over the years, especially when he was accused of receiving two favorable mortgages from Countrywide Financial at a time when the industry was in a crisis.
Dodd was cleared of any wrongdoing, but the allegations left imprints on many people's minds.
At home, feelings are mixed about Dodd's departure from Washington.
" think he did a great job for us and I'm sad to see him go," Linda Widlanski, of Middletown, said.

"I thought he was a great senator. He did good for Connecticut," Michael Downing. of Middletown, said.

Cheryl Marshal, of Killingworth, said it's time for a change.
"It really is time. There should be a timeframe of how long people are in office," she said.

What's unclear is what Dodd will do come Jan. 5, when Attorney General Richard Blumenthal is sworn in as Senator.
Dodd has not discussed his plans, but there are reports he's considering the job as chairman of the Motion Picture Association of America, a job that pays about $1.4 million.