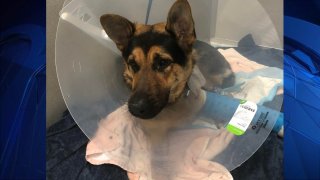 The owners of a dog found shot in Derby Thursday night have been arrested, according to police.
The dog, a German shepherd, was found at the Derby Picnic Grove on Nutmeg Avenue.
Police posted on Facebook Friday afternoon that they had made an arrest in the dog's shooting.
"Suspects are, unfortunately, the dog's owners," the post said.
Police said the dog's owners, 28-year-old Stranja Perrin and 27-year-old Anthony Singletary, are facing charges in relation to the incident.
Authorities said Perrin called police at 2 a.m. to report an injured dog at the park. Singletary was in the car with Perrin's two kids.
During their investigation, police determined that Perrin and Singletary were recently homeless and living out of their car with the German shepherd. They both, however, denied owning the dog.
Surveillance video confirmed their involvement with the shooting. Police said the dog was shot twice.
"One bullet shattered his front leg and another is still embedded in his shoulder," police wrote in a Facebook post.
According to officials, Perrin was legally licensed to carry a firearm and was later found to be in possession of the gun used during the incident.
Police said the dog,
"Thunda" is recovering well and at VCA shoreline in Shelton, but he has a long road ahead.
Fostering is being put on hold, according to police.
Perrin and Singletary face charges including conspiracy to commit cruelty to animals, conspiracy to commit reckless endangerment, two counts of risk of injury, and more.
Neither of the individuals have prior animal cruelty charges.
Perrin is held on a $100,000 bond and Singletary is being held on a $150,000 bond. Both are scheduled to appear in court on April 7.
Anyone with information on the shooting is asked to call Derby police at (203) 735-7811.