An Enfield man has been arrested in Indiana on accusations that he is a serial robber known as the "Dollar Store Grandpa Bandit," a suspect in a series of robberies across the country.
The suspect, 53-year-old David Hunter, was arrested in Indiana on Tuesday.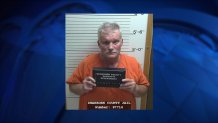 According to police in North Greenbush, NY, Hunter is accused in ten robberies at Dollar Tree stores and Dollar General stores across the nation, including one in North Haven and another in Enfield.
In the North Haven incident, police said the suspect was armed with a stun gun and a hand gun.
Police departments from across the country as well as the FBI were all involved in investigating the case.
Hunter was identified by a Connecticut State Parole officer through surveillance pictures gathered from multiple incidents. Hunter had previously been on parole.
"One of my sargents-- he sent our press releases and our pictures to Connecticut State Parole. Connecticut State Parole then moved it to all their field parole officers and thats when someone bingo someone said 'I know who that person is'," Chief Robert Durivage of the North Greenbush Police Department said.

Police said they were led to Hunter when they identified the car he was driving as a stolen 2017 Dodge Charger. The vehicle was located in Lawrenceburg, Ind.
Lawrenceburg police found Hunter inside a casino and took him into custody without incident. Hunter is currently being held on a federal arrest warrant in connection with a May 6 robbery at a Dollar Tree in New York.
"While the arrest has been made, there are still many aspects of the investigation that remain open. It is hoped Hunter's motives for the robberies will be confirmed through further investigation. Due to the complexity of the joint investigation which involves various law enforcement agencies nationwide, the investigation may take several more weeks to conclude. We are relieved that this part of the case is over and nobody was hurt. Additionally, we appreciate the assistance we received from the many local and state law enforcement agencies, the FBI and the Intelligence agencies that all worked on this investigation," said Durivage.
Hunter is currently in FBI custody. The investigation remains ongoing and it is unclear when Hunter will return to face charges in Connecticut.