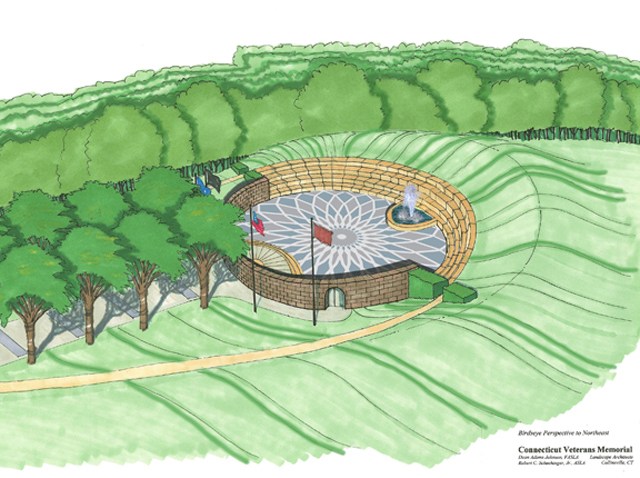 As Connecticut honors veterans from across the state, we are just days away from construction beginning on the veteran's memorial in Rocky Hill.

The groundbreaking happens next Wednesday and organizers are looking for contributions to reach their fundraising goal to build it.
Since 1775, more than 1.3 million Connecticut residents have fought and served our country and more than 277,000 current residents are veterans.
The memorial will include a tree-lined walkway with a timeline of battles, from the Revolutionary War to wars in Iraq and Afghanistan that opens into an amphitheater with a speaker's platform and seating for events. It will also have a fountain and an honor roll of heroes with the names of veterans, past and present.
To get a name on that kiosk, the Connecticut State Veterans Memorial Foundation is asking for a $1 donation from residents.
"Many people want to have their own hero's name inscribed in the State Veterans Memorial," Gov. M. Jodi Rell said. "And for $1, you can. If everybody gives a dollar or more for the name of one Connecticut veteran who has served this country or is currently serving in the military, we will be able to raise the money we need to complete the memorial. Frankly, it is long overdue."
The foundation has raised about half of the $1.2 million goal to build the memorial and they are asking for donations.
On Saturday, you can fill out a donation card and drop money off at any of the state's armories, from 9 a.m. to noon or at 24 banks and credit unions in the state.
Donation cards will be available onsite. Donation cards can also be printed ahead of time by visiting the memorial's website.

Donations will be taken at the following state armories:
O'Neill Armory, 360 Broad St., Hartford
Enfield Armory, 1635 King St.
New London Armory, 249 Bayonet St.
Stratford Armory, 63 Armory Road
Waterbury Armory, 64 Field St.
The following 24 Connecticut banks and credit unions are also participating in the fundraising drive and will have donation cards available at their branches:

Litchfield Savings Bank - visit the branch
Torrington Savings Bank - visit the branch
Checks made out to the Connecticut State Veterans Memorial can be sent to:
Connecticut State Veterans Memorial, Inc.
c/o Rockville Bank
P.O. Box 660
Rockville, CT 06066

The foundation is also accepting donations from companies, veterans' organizations and others.

The state memorial will be located next to the veterans' cemetery and across from the state veterans' home.