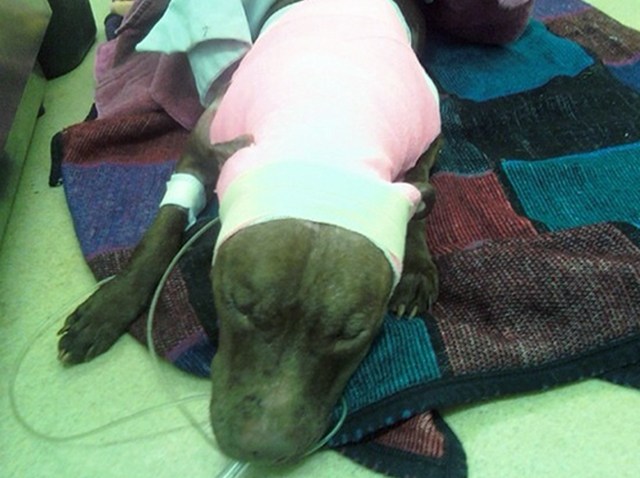 On Saturday morning, a pit bull named Ginger was found, badly burned, wandering in the Devon section of Milford. Police were concerned because she had recently delivered a litter, but the puppies were nowhere to be found.
In the last few days, Ginger shows signs she is recovering well and she captured hearts all over Connecticut. Now, police search for clues to determine what happened to her.
After Ginger was found, a search began for the puppies and the dog's owner.
The owners soon came forward after learning that their dog had been found and contacted animal control, Officer Jeffrey Nielson, of the Milford Police Department, said.
Ginger had escaped on Friday morning, they said, as she has done so in the past. The puppies are fine. Ginger's owners have all eight and they are being cared for well, according to Milford Animal Control.

Milford police are not releasing the owners' names and said they are not considered suspects.
Along with a request for information, animal control has asked for donations to help pay for Ginger's medical care and the response from the community has been overwhelming, Animal Control Officer Rick George said.
"We've received more than $2,000. It's anyone's guess about veterinary costs because, after hospitalization, she will be receiving treatments for another two, three or four months, which is typical in any kind of burn," George said.

George said Ginger will likely make a full recovery, but it will take some time.
Animal Control is still accepting donations for Ginger's medical bills.
To donate you can send a check to:
United Way of Milford
PO Box 221
Milford, CT 06460

Or visit the United Way's Web site.
Milford police are still looking for who or what injured Ginger between Friday and when she was found at 10:30 a.m. on Saturday. If you have information, you are asked to call the police department.