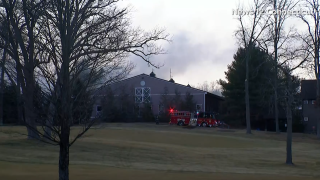 Nearly 40 golf carts and mechanical equipment were destroyed in a fire at a country club in Darien Wednesday evening.
Crews responded to a structure fire at the Wee Burn Country Club on Hollow Tree Ridge Road at about 4:30 p.m.
The fire was reported in a large maintenance shed that contained battery-powered golf carts and equipment. The carts and equipment were destroyed in the fire, according to authorities.
The police department said an employee was hospitalized for smoke inhalation. Officers said the worker was trying to put out the fire with an extinguisher, and their injuries appear to be non-life threatening.
The fire marshal's office is investigating. Police said they don't believe the fire was intentionally set.
No additional information was immediately available.