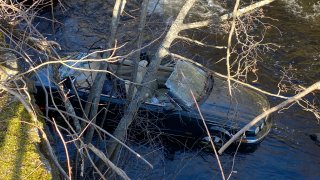 A driver was rescued after his car crashed into a river in the Danielson section of Killingly on Saturday, according to officials.
Fire officials said the car crashed into the Quinebaug River and one person was trapped.
State police said the car crossed over the right shoulder, jumped a curb and traveled off the road, ultimately going through a chain link fence and dropping approximately 25 feet.
Divers rescued the driver who authorities said was conscious and alert when he was pulled from the vehicle.
LifeStar responded to the scene and transported the driver to Providence Hospital, officials said. The driver is being treated for hypothermia and other injuries, they added.
The car was lifted out of the Five Mile River, officials said.
The state Dept. of Energy and Environmental Protection monitored to make sure no fluids got into the river. A boom was extended to catch anything that may leak, authorities added.
The cause of the crash is under investigation.