The brief stint of dry weather won't last much longer in Connecticut.
With clear skies and calm winds, temperatures will fall back to the freezing mark tonight. Freeze warnings are posted for much of the state.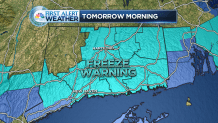 Tomorrow should also turn out dry, with morning sunshine but increasing afternoon clouds. Temperatures will again rise to near 60 degrees.
A disturbance will provide an opportunity for a few showers on Friday, especially in southern Connecticut. It won't be a washout. Highs will be in the upper 50s.
A good amount of low-level moisture will provide for clouds and an increasing chance of showers this weekend.
Saturday looks like the pick of the weekend, as it will be predominately dry with a mix of sunshine and clouds. Highs will be near 60.
Clouds will take over by Sunday, with an increasing chance for showers by the afternoon. It will be cool as temperatures only rise into the middle 50s.
The showers will last into the day Monday, when it will be chilly again with temperatures stuck in the 50s.
A good amount of disagreement exists in whether or not skies clear heading into Tuesday.
For now, the forecast calls for an abundance of clouds Tuesday improving to a blend of clouds and sunshine by Wednesday. Temperatures should rebound back to 60 degrees, which will still be below average.