The end of November is not looking all that memorable for the weather department. The first few days of meteorological winter, which begins December 1, aren't looking too exciting either with temperatures within a few degrees of normal (we do get a nice warm up on Wednesday) and no big storms on the horizon.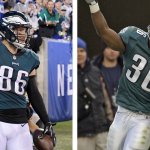 The reason for the quiet weather pattern this week locally, and more broadly across a good chunk of the United States, is a zonal jet stream flow. You can see no big dips in the jet stream and a fairly benign looking jet steam. Generally, big storms form when the jet stream buckles and large troughs and ridges appear.
Going forward, however, things do look a lot more interesting. Beyond the first week of December we see some fairly large changes to the jet stream. Check out the changes coming over the next 15 days. The first graphic here is the Day 1-5 European Ensemble height anomalies and the Day 11-15 forecast. What starts out as a zonal (generally west to east flowing jet stream over the Pacific and North America) becomes quite disturbed.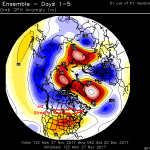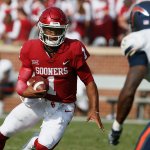 The combination of significant high latitude blocking (not shown is a big disruption of the stratospheric polar vortex) and a huge change to the jet stream pattern over the Pacific should favor a much colder weather pattern. It would appear that a significant pattern change with chances for below normal cold and snow is a possibility around December 10th. How long this will last is a question.
While nailing a day 10 to 15 forecast is a challenge we are looking at the general weather pattern and not specific storm systems. What this "favorable" pattern means is that we will load the "atmospheric dice" to favor cold outbreaks and snow. I'd have my snow blower ready to go in about 10 days.