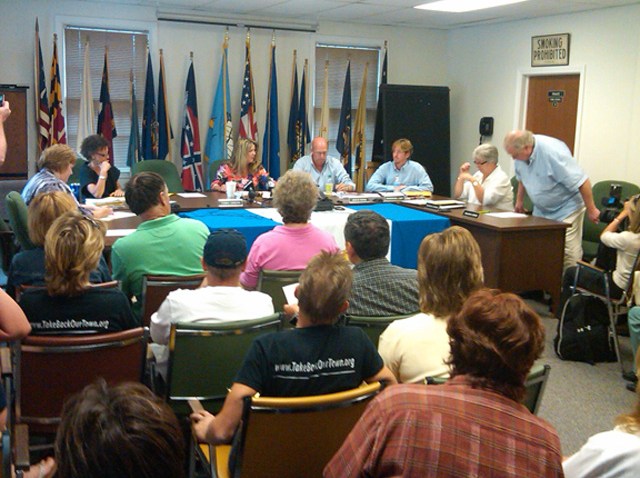 East Hampton officials have replaced Town Manager Jeffrey O'Keefe.
On Friday, they approved a separation package agreement worth $171,000 in return for O"Keefe's resignation. An interim manager has been appointed.
This meeting two days after a closed-door meeting during which town councilors were to discuss the possible removal of a "management-level" town official.
At that time, they would not say whether it was connected to the police chief controversy that has been brewing since former Police Chief Matthew Reimondo was suddenly dismissed in June, at O'Keefe's request.
In the audience sat several residents wearing T-shirts in a show of support for Reimondo. The front says: "Bring Back the Chief: Fire O'Keefe." The back has the Web site address: TakeBackOurTown.org.
"All of the complainants must be fairly investigated, the Chief must be reinstated, O'Keefe must resign or be fired for cause, and the Council 6 must be voted out. Until then, continue to demonstrate support for the Chief," the Web site says.
Reimondo has claimed that officials violated a town charter and more than a dozen ordinances by forcing him out and that the move was retaliation for his coming forward with sexual harassment complaints against O'Keefe by three female town workers and that town officials worked together in secret to eliminate his job to keep him from investigating alleged wrongdoing.
O'Keefe said Reimondo was eliminated in a cost-saving measure.
Follow us on Twitter @NBCConnecticut, on Facebook, and sign up for breaking news SMS alerts on your phone by texting "CTBREAKING" to 622669.
Copyright AP - Associated Press