East Haven police are searching for two suspects involved in an armed robbery at a local bank Tuesday.
Police said a suspect brandishing a black revolver entered the Citizen's Bank at 430 Foxon Road around 2:50 p.m. He was wearing a mask, gloves, a black or dark blue hoodie, black pants or jeans, and basketball sneakers.
During the robbery, the suspect hopped the counter and his gun went off. No one was hit and no injuries were reported.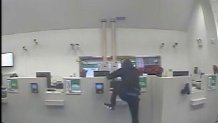 Another suspect was waiting outside on a black, blue and white "street bike type motorcycle" with no plates, police said.
The suspects were last seen traveling westbound on Foxon Road toward New Haven.
Anyone with information on this crime is asked to contact the East Haven Police Department at 203-468-3820.