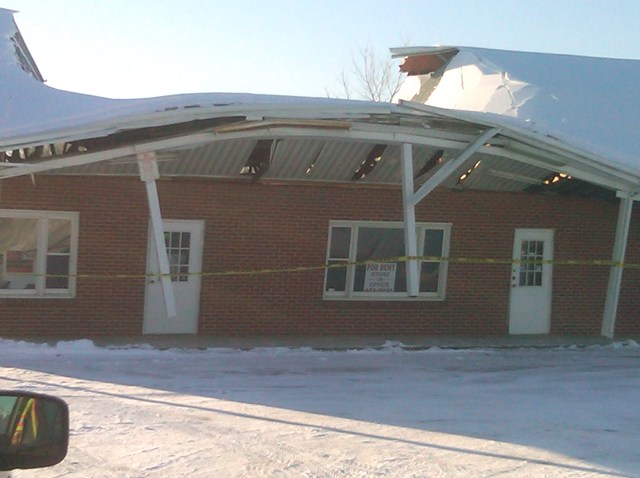 Part of the roof of an East Windsor shopping plaza collapsed on Thursday morning and authorities fear that the wall will fall because it is bowing.
The collapse happened at 142 North Road, in the Bassdale Plaza, which includes a a hobby store, a mobile phone store and a dance school.
The sign in one window of the store to sustain the most damage says the space was for rent.
Emergency crews have responded to eight to 10 roof collapses over two days.
One was a roof collapse at a trailer home at 243 Fairway Drive around 3 a.m. The resident was able to get out. According to Realtor.com, the mobile home was built in 1959.
Several buildings have collapsed under the weight of ice and snow. Most had flat roofs, but the shopping plaza roof is pitched.
Emergency officials in many towns are responing to partial collapses.
An old sawmill at 158 Pinney Road in Colebrook was destroyed when it collapsed under the weight of snow and ice. The mill was no longer in operation.
A building at 1701 Highland Ave, on Route 10, with multiple businesses, including a Cox Communications office, collapsed this morning in Cheshire at 6:40 a.m.
One was reported at 8 Railroad Ave. in Beacon Falls. It is a manufacturing company.
Another was reported at Thurston's Oil, 410 Rubber Avenue, Naugatuck. No injuries reported.
Follow us on Twitter @NBCConnecticut, on Facebook, and sign up for breaking news SMS alerts on your phone by texting "CTBREAKING" to 622669.