Manchester fire officials said a person has died in a house fire in Manchester Monday night.
Crews were called to Vernon Street at about 5:30 p.m. for a reported structure fire. When firefighters got to the scene, they saw heavy fire coming out of the front windows.
Firefighters said they made an aggressive interior attack and knocked down much of the blaze quickly.
An elderly man was trapped on the second floor of the home. He died of his injuries before crews got to the scene, according to Fire Chief Daniel French.
Officials say they believe the man lived in the home, but his identity is not yet known.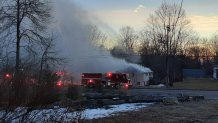 There is significant damage to the second floor and attic. French said he believes firefighters made it to the scene quickly after being dispatched.
"I can tell you it was very quick at this time of the evening. Someone probably saw it. It's a busy road. Our folks at Engine 3 is right up the hill. They were here relatively quickly," French told NBC Connecticut.
The cause and origin of the fire is under investigation. The fire marshal and police are responding to the scene to investigate the man's death.
It's unknown how many people lived in the home. Fire officials said they have peer support teams to check in on their firefighters after incidents like this.
"Whenever we have an event like this, we try to check in and make sure they're all well. And our chief on duty tonight, our shift commander, will check in with all his guys and tomorrow, our peer support team will follow up and we will make sure we're doing our due diligence to make sure they're okay," French said.
No additional information was immediately available.