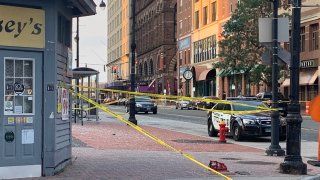 Hartford Police said an evading vehicle crashed into a few cars in the downtown area Sunday evening.
Officials said the car got off the highway and crashed into a glass bus stop enclosure as well as parked cars in the area of Main Street and Pratt Street.
The driver was also involved in another accident at Market Street and Trumbull Street, authorities said.
Police said when officers got to the scene, they saw that the driver was removed from his car by a pedestrian at the scene.
Minor injuries were reported. Road closures in the area were in effect.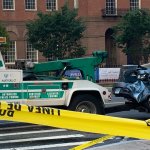 An arrest has been made in connection with the incident.
The Department of Public Works responded to the scene. The incident remains under investigation.