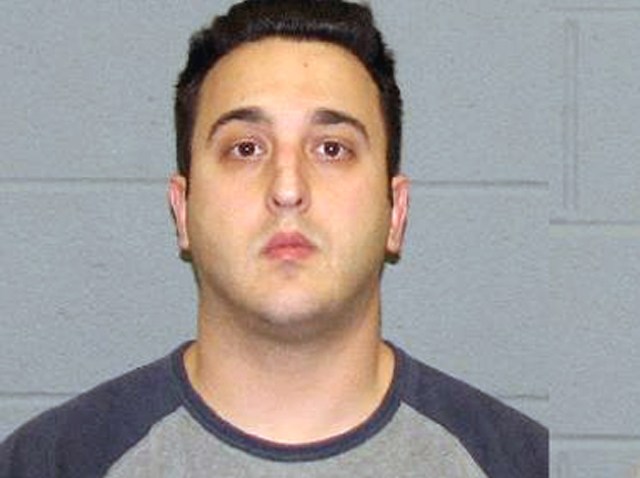 A year before Marybeth Banks was shot in what cops call a contract shooting, she reported that her ex-boyfriend attacked her after a fight in his Wolcott home, the Waterbury-Republican American reports.
This week, Anthony DeJoseph, of Wolcott, was arrested in Waterbury, accused in a bar brawl and Massachusetts police tell local authorities that he might have orchestrated the shooting that has left Banks in critical condition.
Banks, 31, was shot several times on Tuesday night as she sat in her car outside her Pembroke, Massachusetts home.
Dorian Membreno, 25, of Bridgeport, has been arrested, accused of shooting her and claims he drove from Bridgeport to kill Banks after the woman's ex-boyfriend gave him a gun.
Banks had reportedly been nervous about an upcoming court case involving a restraining order she had taken out against her ex-boyfriend, the Quincy Patriot Ledger reports.
DeJoseph is the man Banks took out a protective order out against. It stemmed from an alleged attack on New Year's Day 2009 in which he broke her ribs, the Boston Globe reports. DeJoseph was charged with second-degree assault and disorderly conduct on March 22. He pleaded not guilty. A judge issued a protective order on March 24, 2009, the Republican-American reports, and the case was scheduled to go to court.
Banks' friends said she was so afraid of her ex-boyfriend that she would ask colleagues to accompany her to the bank or on errands if it was after dark.
The reason Waterbury police arrested DeJoseph was assault charges stemming from a St. Patrick's Day bar fight. He is accused of hitting a man with a glass bottle at The Hills Restaurant in Waterbury, the Republican-American reports. He was arrested on Wednesday, according to court records.
"He struck a beer bottle across another man's face, causing very serious injuries to his lower lip and chin," Waterbury police Lt. Chris Corbett said.
He was knocked unconscious, required stitches and the lower portion of his face might be disfigured, Corbett said.
After his arrest, Massachusetts police alerted them that he might have orchestrated the alleged murder-for-hire plot.
Wolcott police searched DeJoseph's home on Wednesday and found eight guns, the newspaper reports. On Thursday, he was charged with eight counts of criminal possession of a firearm and violation of a protective order.
His bond is set at $2.5 million and more charges are expected as the investigation into the murder for hire plot continues.
Waterbury police would not comment on whether they are helping in the Massachusetts' investigation, but did say discussion is ongoing about who will eventually handle the case.
"Certainly there are jurisdictional issues they are considering right now, including where the deal was made and crossing over state lines," Corbett said. "That's some of the factors being considered right now."