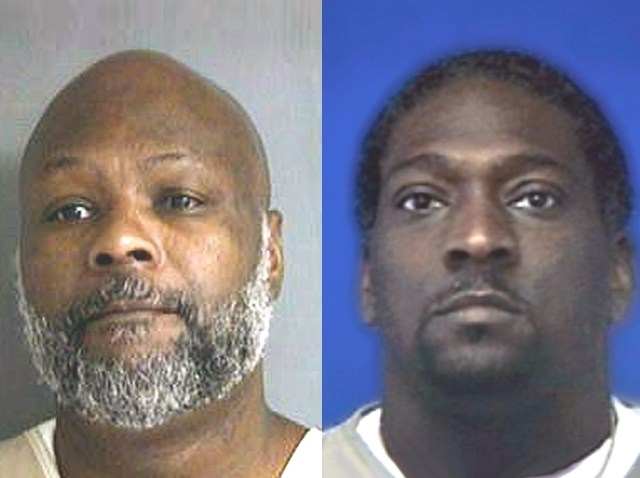 Ronald Taylor and George Gould walked outside as free men on Thursday for the first time in 16 years.
"Today's like a breath of fresh air," said Gould, as he left Rockville Superior Court.
"We prevailed. That's all that counts," said Taylor, outside the courthouse.
Their release came after a hearing that lasted less than five minutes, where the two men wore handcuffs and orange prison jumpsuits. Judge Stanley Fuger allowed them both to be released on a $100,000 non-surety bond. Fuger is the same judge who recently overturned their murder convictions.
"Waiting for this for a while, for a long time. I always knew it would come to this day," said Gould.
"I never thought it would happen but then things turned over and you could see the light at the end of the tunnel," said Taylor.
Gould and Taylor were convicted in 1995 in the robbery and murder of Eugenio Deleon Vega, a New Haven grocery shop owner. When they were sentenced, both insisted they were innocent.
On March 18, Judge Fuger agreed, saying the two men are actually innocent of the 1993 killing and are victims of "manifest injustice."
Their convictions were based on testimony by Doreen Stiles who claimed she saw both men at the crime scene. Stiles recently recanted, saying she was not at the scene at all. In addition, Gerry O'Donnell, a private investigator, found that DNA on the cord used to tie the victim's hands did not match either Taylor or Gould.
"The patience for justice, sometimes it takes a while and I have bitterness on some of the system, how the timing is and how things come about," said Gould.
"I think some of them prosecutors need to be accountable for their actions. They put people behind bars knowing that they're innocent from the beginning," said Taylor.
At the end of the hearing, the family and friends in the courtroom applauded.
"I can't even put it into words. It's like, I'm speechless," said Mercedes Batts, George Gould's sister.
"To see my son walking on the street and being out of jail, you know I know he should never have been in there," said Martha Gould, George Gould's mother.
O'Donnell also attended the hearing. Both men thanked him outside the courthouse. "Unbelievable to give people back their life. It's overwhelming," said O'Donnell.
As part of the conditions of their release, both men will wear GPS monitoring systems.
State prosecutors still have the option of appealing the ruling that threw out these convictions, and did not oppose their release on bond.
Copyright AP - Associated Press