The population in Fairfiled County has been steadily increasing over the last few years.
Since 2010, the population has grown close to 30,000 people, making a 3 percent increase over five years, according to new U.S. Census data.
It should come to no surprise: several towns in Fairfield were among the top 25 best places to live in Connecticut, according to a report put out earlier this month.
The area is known for lower local tax rates, higher property values and high-performing school systems.
Other counties have no had the same outcome.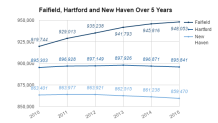 Litchfield county had one of the more drastic drops-- its population has gone down 3.4 percent over the last five years.
Bigger counties like Hartford and New Haven had populations remain about the same with only about .11 and .21 percent drops, respectively.
More data below: